Help the club

The Club is totally reliant on its members to help run existing and planned chess activities. If you'd like to help out occasionally please send us an email at melbchessclub@gmail.com. Here are some ways you can help:
Taking Photographs of events
Promote your business at the club (a partnership).
A handy-man/woman willing to help out with odd-jobs relating to the building.
Promoting the club around Melbourne.
Writing reports for events
Organising an event: Anything from being the promoter/organiser of a larger tournament or organising your own 4 player event!
Opening / Closing the club: The MCC is always looking for responsible members to open and close the club.
Sausage Sizzles: We run a few "Bunnings Sausage Sizzles" every year as fundraisers for the club. If you can come down and lend a hand cooking or taking money one day per year that would be great.
Cleaning: Giving the club an occasional vacuum, taking out the rubbish, cleaning up the kitchen or wiping down some tabletops.
Joining the committee and having a say in the manner and direction in which our club moves forward.
Chasing Sponsorship or Grants to help the club.
Chasing foreign masters to play in our events.
Coaching at the club: if you can offer a free hour of coaching as a junior prize in a tournament for example.
Giving a lecture at the club (advanced players) 
Underwriting or Sponsoring an event.
Making a donation
Parents of juniors who want to get involved
Tournament players to arrive 15 minutes early and set up the DGT board transmission (training provided).

Anything you'd like to put forward!
If you would like to make a donation, please send a cheque (made out to Melbourne Chess Club Inc) to 66 Leicester St. Fitzroy 3065.
Donations of $50 or more are acknowledged with the donor's name inscription on a square on our Building Fund Honour Board.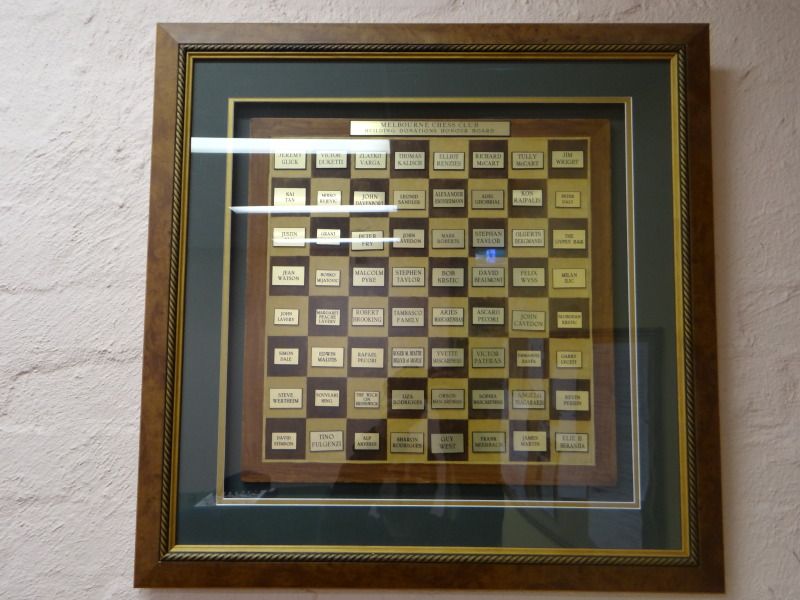 The Club is willing to consider any mutually beneficial sponsorship proposals. (Contact details as above).